Prevent glitches for maximum availability and reliability
Data Center Assessment Services
Due to the increase in IT requirements for businesses, data centers are rapidly advancing to meet up with the every changing landscape. One way to know a data center that is readily available to cater for ever growing business needs is through regular data center assessment.
What is data center assessment?
Data center assessment involve evaluating and analyzing your data center or network closet on–site and providing recommendations on maximizing availability thereby reducing cost and improving efficiency. A data center with high availability is made up of several components that must be synchronized to run and operate smoothly. It is essential to keep these components secure, efficient, and healthy at all times.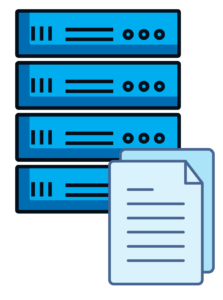 Types of Data Center Assessment Services
Data center assessments includes the following:
IT Infrastructure Assessment
This is the most important data center assessment, and it involves the following:
| | |
| --- | --- |
| Scalability and architectural concerns such as access rights, hardware, disaster recovery, business continuity considerations, software & virtual environment IT integration and management, pricing, etc. | End-user functionality such as real-time data polling, capacity planning, reporting and analytics, unified dashboard, intelligent monitoring and alerting, dependency mapping, etc. |
| Budgets, digital transformation essential elements, and business expectations such as Artificial intelligence, machine learning, analytics, etc. | Vendor strength such as end-to-end IT management organization skills, reputation, etc. |
Environment Assessment
This involves evaluating the data center site to find vulnerabilities and other characteristics that might impact its operations. Proximity to adjacent hazards like rail lines, airports, and rivers, building access are some of the factors that can impact a data center
Communications Assessment
Due to the continuous evolution of technology, flexibility and scalability are required for communications infrastructure. The reviews included here are communication cable plant pathways. In contrast, others may include cable routing, airflow management, LAN/ switching architecture/SAN core routing, ability to support current and future storage and server technology, power and cable management, etc.
Physical Assessment
This includes assessing the mechanical and electrical equipment, which are the foundational equipment of the operations of a data center. If this equipment, life expectancy, repairs, and scheduled maintenance are not properly assessed, it could lead to cost overruns.Building automation/controls, cooling and temperature control, air distribution, plumbing/drainage system, fire suppression, space pressurization, battery room ventilation are some of the mechanical systems that are subject to review.Grounding, electrical power monitoring, security/access control, fire alarm, transient voltage surge, standby and critical power generation, and distribution, all critical electrical systems, are some of the electrical systems that undergo review.
Get in touch today to find out more about our data center assessment services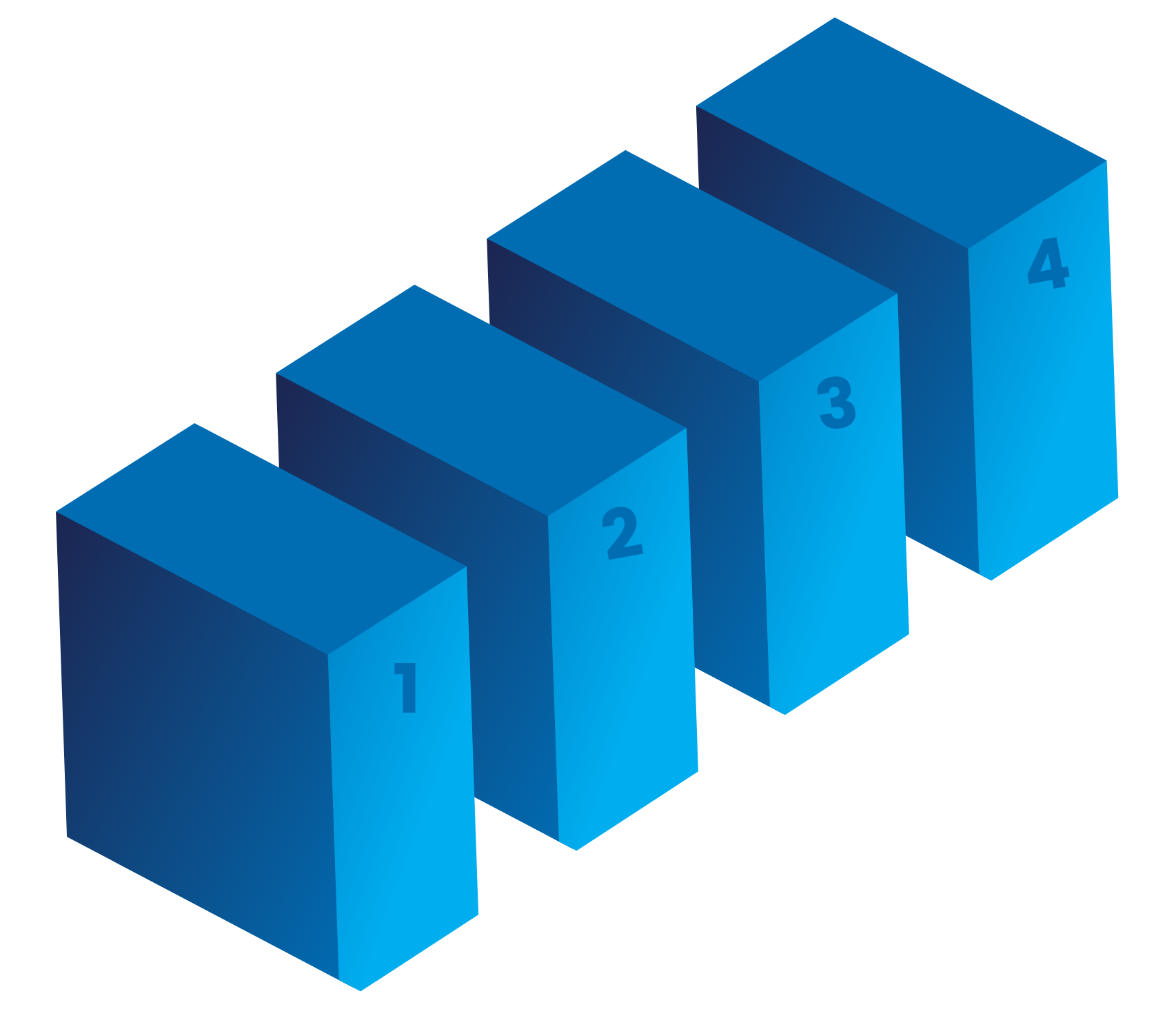 Data center tiers are systems through which specific kinds of data center infrastructure are described invariably. They are the best ways to describe infrastructure components utilized in a data center. With these classifications, you can reliably and efficiently compare a particular site's infrastructure performance against another one, and align your infrastructure investments to business goals.
The data center classifications are divided into four tiers, and each of them matches a business's function and defines its maintenance criteria, power, fault, and cooling capabilities. In their rankings, these tiers are progressive, which implies thata higher tier contains the requirements of a lower one. However, this progressive nature does not mean that a Tier 4 data center, because it is higher than a Tier 2, is best suitable for a business' needs or is better than a Tier 3. They all fit different business operations.
While a business might be exposed to risk because of a Tier 1 data center, investing in a Tier 4 data center might be an over-investment. Owners of businesses ultimately choose which Tier best suits their business needs, and operational sustainability and topology establish the criteria for performance that data centers follow.
Other factors that data center owners may want to consider include regional weather, building codes, property usage, and security, all of which are not covered by operational sustainability and topology standards because they vary in all cases.
The different data center Tier levels include: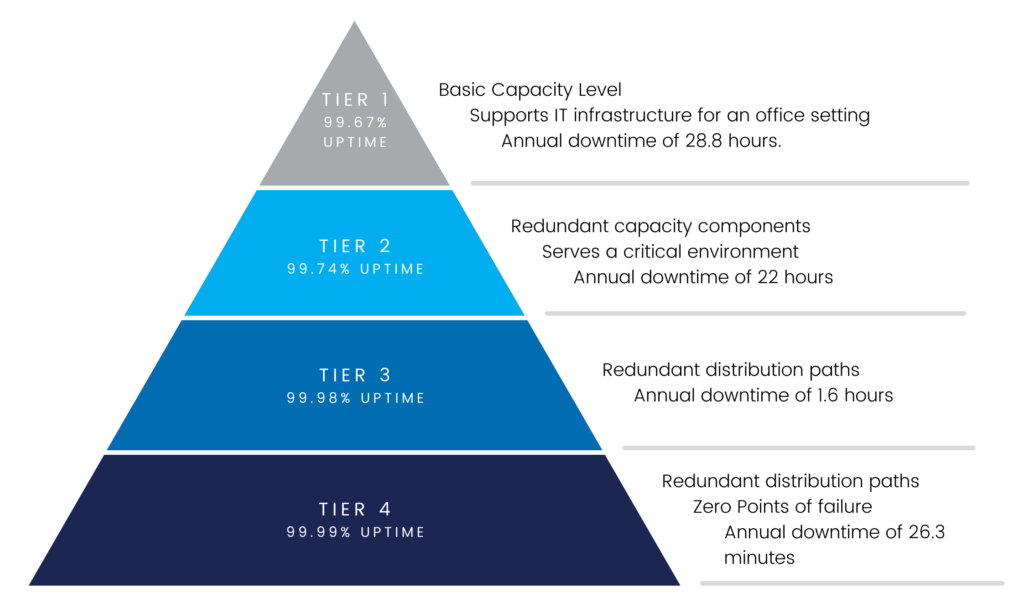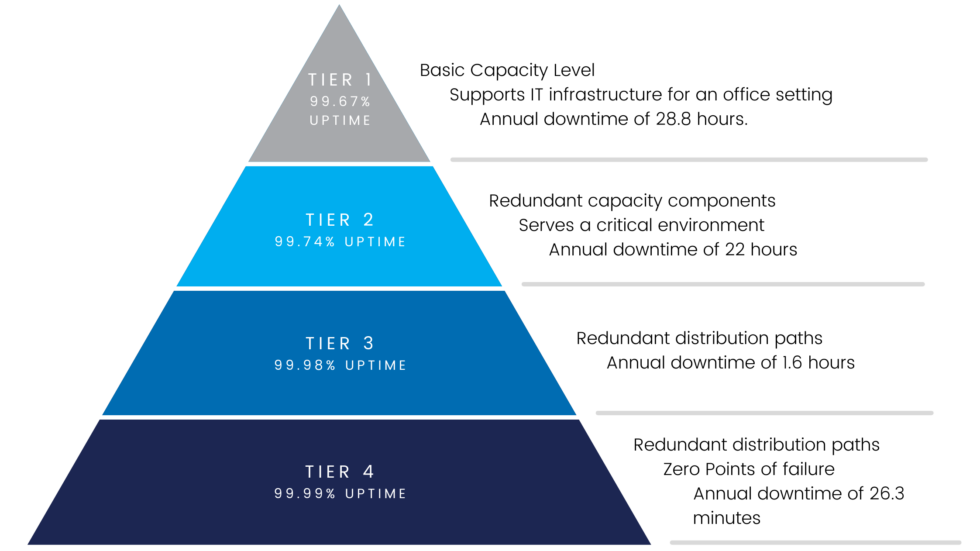 Tier 1
The infrastructure of a Tier 1 data center can support information technology for an office setting and above. It is the basic capacity level, and its requirements include  
An uninterruptible power supply (UPS) in case of power outages, sags, and spikes

 

An IT systems area

 

Dedicated cooling system which will keep running outside of office hours

 

An engine generator in case of power outages. 
This type of data center can protect against disruptions that are caused by human error, but it won't protect against unexpected outages or failures. Pumps, chillers, engine generators, and UPS modules are redundant equipment, and there will have to be a complete shutdown of the facility for preventive maintenance and repairs. Failure to carry out these maintenance and repairs will increase the risk of disruptions and serious consequences resulting from system failure. A Tier 1 data center has an expected uptime of 99.671%, with an annual downtime of 28.8 hours. 
Tier 3
This data center Tier can be maintained with redundant components as a major differentiator, serving critical environments with redundant distribution paths. It is not required to be shut down when equipment needs to be maintained or replaced, unlike the two previous Tiers. If you add Tier 3 components to Tier 2, you can shut down any part without interrupting IT operation. A Tier 3 data center has an expected uptime of 99.982%, with an annual downtime of 1.6 hours.  
Tier 2
 Tier 2 facilities are facilities that take care of redundant capacity components used for cooling and power, providing a better opportunity for maintenance and protection against disruptions. The component includes:  
| | | |
| --- | --- | --- |
| Fuel cells | Fuel tanks  | Cooling units |
| Chillers | Pumps | UPS modules |
| Energy storage | Engine generators  | Heat rejection equipment |
This Tier's distribution path serves a critical environment, and its components can be removed without shutting the system down. Just like the first Tier, an unexpected shutdown will affect its system.
A Tier 2 data center has an expected uptime of 99.741%, with an annual downtime of 22 hours.  
Tier 4
This data center Tier has several physically isolated and independent systems acting as redundant capacity components and distribution paths. The reason for the separation is so that any event will not compromise both systems. Disruption from planned or unplanned events will not affect the environment; however, if the distribution paths or redundant components are shut down, the environment poses a higher disruption risk in the event of a failure.  
Tier 4 data center requires continuous cooling for the environment to be stable, and its facilities add fault tolerance to Tier 3 topology. The power design of the IT equipment must be fault-tolerant for it to be compatible. IT operations will not be affected if there is an interruption in the distribution path or a piece of equipment fails. A Tier 4 data center has an expected uptime of 99.995%, with an annual downtime of 26.3 minutes. 
Why choose our data center assessment services?
At DC Encompass, our data center assessment services gives you the opportunity to overcome complexities that have been introduced in the maintenance of the important IT facility infrastructure.
With our data center assessment services, our team of experts will analyze your already established infrastructure to make sure that you have maximum availability and reliability to prevent glitches that can result in downtime or failure.
Our assessment findings will enable you to:
Reduce the risk of having business interruption and infrastructure failure
Have a better understanding of your organization's risks, weaknesses, and strengths
Make better and informed decisions in deploying and integrating IT assets
Improve performance via new delivery models and technologies
Increase your agility as competition intensifies and your business needs a change.
Properly budget and plan for refreshments of your hardware and software
Increase your earnings by reducing the total ownership cost.