As coronavirus (COVID-19) sweeps the world, many organisations are asking the same question. How can we protect our employees from exposure? This article explores cyber hygiene. Read on, to find out how technology can help organisations to cope with the coronavirus crisis.
What are the general risks?
People are the lifeblood of any organisation. As such, it's almost impossible to avoid a contagious virus, such as COVID-19. However, technology planning can reduce the risk of exposure in the workplace.
Some of the major transmission risks are:
Public to employee transmission. For example family and friends.
Employee to employee transmission.
Client to employee transmission.
Infected surfaces and objects to employee transmission. Such as desks, keyboards and door handles.

What can be done to reduce risk?
Risk management doesn't need to be expensive. Implementation of simple technology solutions can reduce workplace exposure to the coronavirus (COVID-19). We've come up with nine to help you.
Where possible, allow staff to work from home. Set up VPN access for staff who don't have it. Alternatively, a cloud solution like Microsoft Office 365 may be helpful.

Your current IT network can't handle a large increase in VPN connections? Consider running workloads in the cloud For example on Microsoft Azure or AWS.

Consider a workplace recovery solution. A workplace recovery solution is a physical space, fitted out with office essentials. They can act as a backup workplace. Which can be very useful in disaster recovery and lockdown situations. Major providers of workplace recovery solutions include Regus, Servcorp and Victory Offices.
Cancel or reschedule conferences. Alternatively, use a video-conferencing solution like Skype or Microsoft Teams instead.

Outsource your IT function? Confirm they have a contingency plan in place to deal with staff illness and absence.

Use a video-conferencing solution instead of face-to-face training. For example, Skype or Microsoft Teams.
Use the phone or video-conferencing to conduct business with existing clients.
Remind staff not to open unsolicited emails and attachments about COVID-19. A phishing attack is the last thing an organisation needs during the COVID-19 crisis.
Encourage keyboard hygiene in the workplace. In some environments it may be a good idea to issue staff with their own silicone keyboard covers. Such as in multi-shift call centres.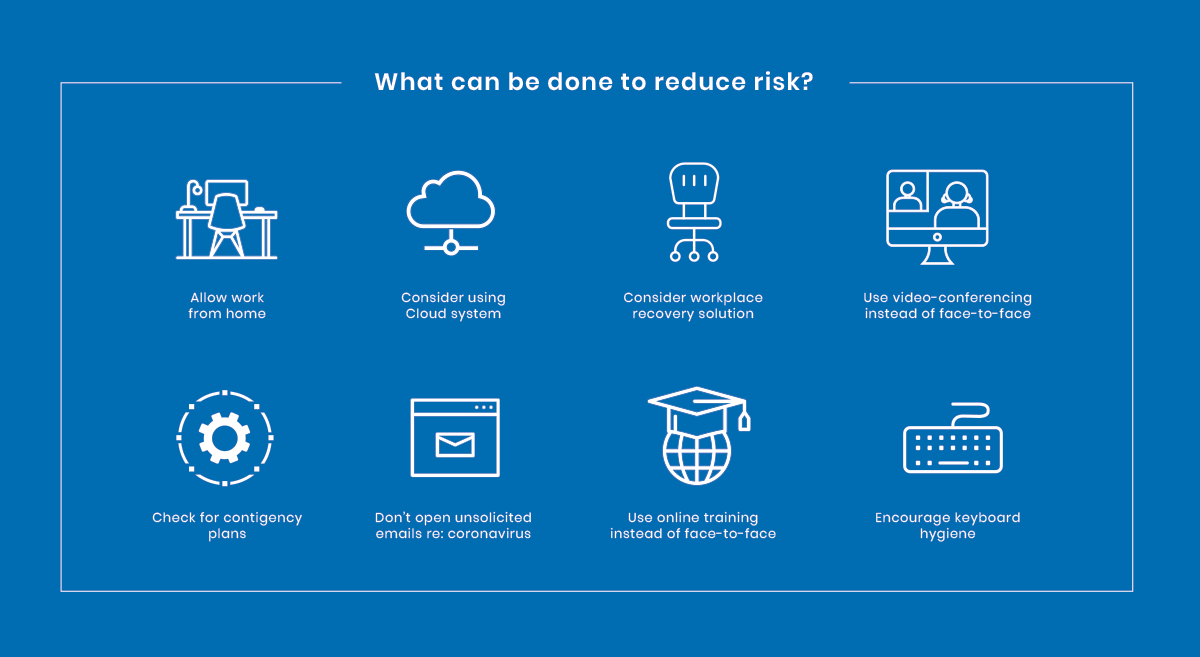 How can cloud / VPN help?
The obvious advantage of cloud and/or VPN is that it fosters mobile and remote collaboration. An employee with remote access to company systems can potentially work from home. This avoids COVID-19 carriers in the workplace or on public transport. Isolating employees may seem antisocial. But, in the short term it's a practical way to minimise risk. Global companies are already allowing employees to work from home. For example, Microsoft, Hitachi and Chevron.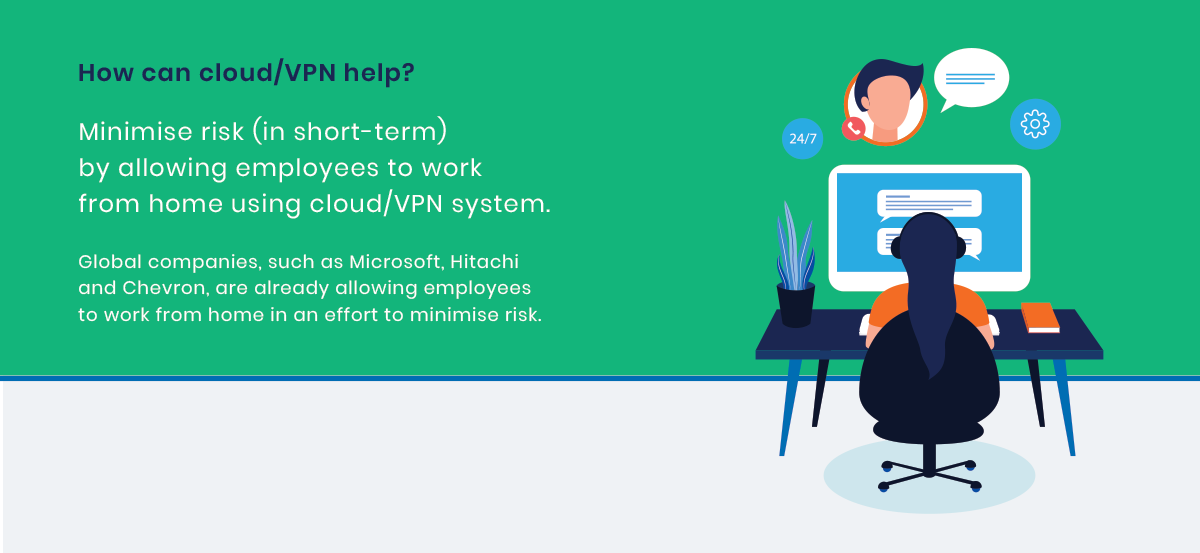 The way forward
At DC Encompass, we specialise in secure IT networking, cloud and infrastructure solutions. We partner with some of the biggest names in IT. Including Microsoft and Cisco. Want to find out more about remote access (VPN), general cloud, Microsoft Azure and Office 365 solutions? Call us on 1300 002 112.